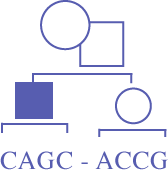 News and Updates
Code Talker Award Nomination (2018)
CAGC member Prescilla Carrion was nominated for a "Code Talker" award to recognize the impact she has made through the psychiatric genetic counselling research she is leading in the Institute of Mental Health Centre for Care and Research, in the UBC Department of Psychiatry.
This essay contest is for patients and their families to pay tribute to a genetic counselor by nominating him or her for an award, and the finalists and other nominees were recognized at the National Society of Genetic Counselor's (USA) annual education conference in Atlanta Georgia in November 2018.
Although she was not selected as a finalist, the essay written about her work was chosen for publication in the 2018 Code Talker book of essays by Genome Magazine. The published essay is titled "Insightful Understanding," and describes how Prescilla had positively impacted the essayist and her family's life through the genetic counselling she provided, helping reduce her guilt as a parent and see how she could promote the mental health of her son with schizophrenia and also promote her own mental health.
Prescilla Carrion is the first Canadian genetic counsellor for which an essay has been published in Genome Magazine's annual book of essays for this award. This is also the first essay to be published in the Code Talker book to highlight the impact of psychiatric genetic counselling. http://genomemag.com/codetalker/
Photo by Rachel Pick Photography