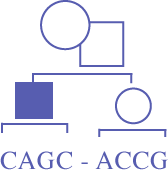 What is the CAGC
Canadian Association of Genetic Counsellors?
The Canadian Association of Genetic Counsellors was formed in 1987 with the goal of promoting high standards of practice, facilitating and supporting professional growth and increasing public awareness of the genetic counselling profession in Canada. The CAGC administers the Canadian Certification examination for Genetic Counsellors and provides continuing education opportunities for its members.
Who can join the CAGC?
Membership is open to all genetic counsellors, genetic counselling students, and allied health care professionals working in the field of genetics. Clinical and laboratory geneticists may also become members. Student members are welcome!
Education opportunities:
Education initiatives for members include:
Annual Education Conference
Biennial Short Course
Crossover, a newsletter published three times a year
Committees regarding specific areas of interest
Certification Examination:
The CAGC provides core competencies and governs the certification process. The certification examination is offered every two years.
What benefits does a membership offer?
Online membership directory, which provides contact information for all CAGC members worldwide.
Access to the CAGC electronic mailing list, which is an excellent forum for sharing information and networking.
Direct e-mail notification of job postings to CAGC members.
Discounted rates for the Annual Education Conference.
What information is available on our website?
Those interested in learning more about genetic counselling or membership with the CAGC are encouraged to visit our website at www.cagc-accg.ca. In addition, information is available on the following topics:
CAGC Annual Education Conference and registration forms

CAGC Board certification procedures and core competencies

Links to other helpful websites and web resources

Job postings
​
Interested in partnering with the CAGC to help develop and produce new webinar content in a sponsorship capacity?
Please see the Education Partnership Proposal Application Form for further details and instructions on how to apply.