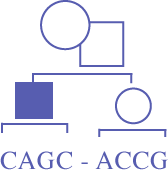 Direct-to-Consumer Genetic Testing
CAGC Position Statement
CAGC Statement on Direct-to-Consumer Genetic Testing

Canadians are increasingly accessing direct-to-consumer (DTC) genetic testing. DTC testing is
defined as a test that is marketed directly to and ordered by the consumer, and not prescribed
by the patient's healthcare provider. The CAGC believes that Canadians have the right to make
informed decisions about DTC testing, taking into account the potential benefits, limitations
and risks.

The CAGC believes that commercial providers of DTC genetic testing should engage in
responsible marketing of their products, and provide customer support throughout the testing
process. Ideally companies should provide consumer access to qualified medical genetics
professionals.

Genetic counsellors are uniquely equipped to provide pre- and post-test genetic counselling to
individuals who elect to pursue DTC genetic testing. However, Canadian consumers should be
aware that the availability of provincially funded genetic counselling services for such tests may
be unavailable or very limited.

Approved by the CAGC Board of Directors: April 11, 2018