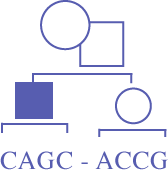 Access to CAGC Membership
Connect with our Members!
Do you have a job opening, product or service you'd like to advertise to Genetic Counsellors?
The CAGC offers a variety of ways for you to access our members!

---
Job Postings

3-month job board listing (includes a one-time email broadcast)
$175.00
Renewal of 3-month job board listing (includes a one-time email broadcast)
$150.00

Email Broadcasts

Commercial Advertisement
$400.00
Other (educational opportunities, research studies*, non-profit groups)
$50.00

Optional Add-Ons

Email broadcast HTML coding/styling embedded
$100.00
Email broadcast targeted to a sub-set of CAGC membership (category, region)
$25.00
---

Note that advertising on the CAGC Listserv(es) is not permitted. The intention of the Listserv is to provide CAGC members with a forum for discussion, networking, and communication among subscribers.
* CAGC student members receive one free email broadcast – to order please contact cagcoffice@cagc-accg.ca.
To submit an advertising request simply complete the form below and choose your preferred advertising method. Once submitted your request will be reviewed by the CAGC Membership Committee. Upon approval, advertisements will be distributed as requested.

Be sure to accurately proof your advertisement as changes cannot be made once distributed.
Questions?
Please contact us at cagcoffice@cagc-accg.ca.