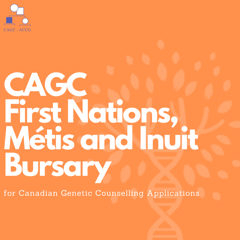 June 21st is National Indigenous Peoples Day. On this day we recognize and celebrate the culture and contributions of the First Nations, Inuit and Métis Indigenous peoples of Canada. In 2015, the Truth and Reconciliation Commission of Canada called upon all levels of government to increase the number of Aboriginal professionals working in health-care fields. The CAGC FNMI Bursary for Canadian Genetic Counselling Applications is part of CAGC's continuing commitment to fostering inclusion and diversity within the organization and the genetic counselling profession.

This annual bursary is intended to cover the fees associated with applying for Canadian graduate programs in genetic counselling, for Canadian citizens who self-identify as First Nations, Metis and Inuit. It is available on an annual basis and eligible students must apply by May 31 of the same year of application. There is up to $3000 available annually and funding will be awarded in the order in which applications are received.
Click here to access the application form
If you have questions abut the bursary, eligibility criteria or the application process, please contact Cammie Kaulback, Executive Director here.